I love Christmas.  Especially because it is the season of giving.  I love buying presents.  It is one of my favorite things to do.  I put a lot of thought into it and try to find something that they will really enjoy.  My favorite part is seeing the look on their face when they open the present.  It's magical.  Hunny and I bought our first present for this Christmas in January (I know that's early, but it is the perfect gift for his parents.  They won't even believe it).  Needless to say, most of our family Christmas shopping is done, but we still need to buy things for each other.
Even though I adore gift giving, I am not the easiest person for whom to shop.  I never know what I want.  My brother asked me last month what I wanted for Christmas, and I said, "I don't know.  Let me think about it."  I still haven't gotten back to him.  Hunny had me favorite things on etsy so he could surprise me with something.  I started out looking at vintage costume jewelry that was in our price range, and then I just started looking around and I saw this:
I want that pink Royal typewriter.  Really bad.  But the cheapest one I found on etsy was around $500.  Definitely not in our price range.  What fun is looking at things for Christmas if you can't dream a little, right?  So I decided that I would share my Christmas wish list if I had an unlimited supply of money and no one else needed anything.
It looks like an ordinary typewriter…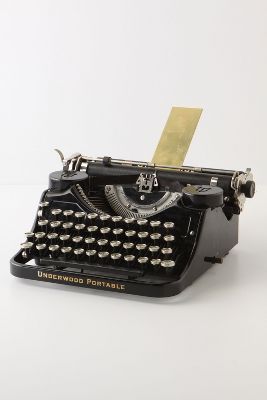 It types on an Ipad!  I don't have an Ipad, so I'd have to buy both.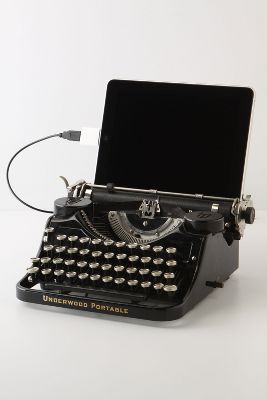 Listening to this repurposed gramophone would help me with my writing atmosphere.
Just in case I didn't want to disturb anyone else with my music.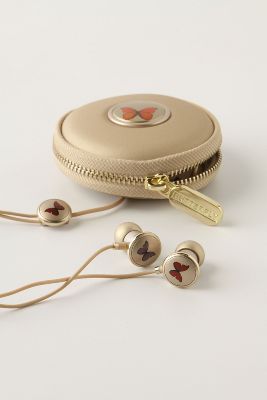 I need an awesome desk.
Don't forget some fun pens.
A comfy chair for reading.
A great sofa for plotting my next story.
I definitely need a car to make coffee runs during the day…
And a quiet writing retreat.
Merry Christmas Daydreaming Everyone!!